Roly-Poly & Wiggles and Giggles (8mo-18mo)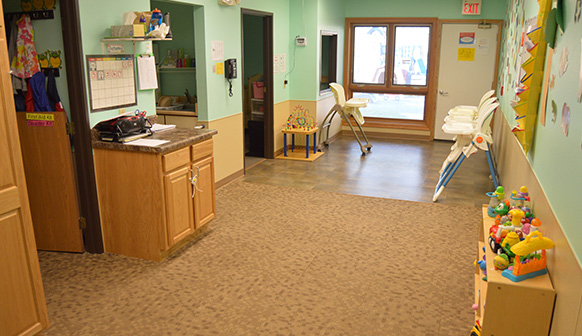 Room Capacity: 2 classroom 8 infants in each classroom
Age: 8 months to 18 months
Staff to Child Ratio: 1 staff member to 4 children
Supplies Needed:
Diapers
Wipes
Extra set of clothes
Pacifier (if needed)
Formula/Breast Milk (if needed)
Sunscreen (spring/summer)
Safe Sleep: CACCCP is required by the Department of Human Services to practice safe sleep routines with infants. Children will be placed in their cribs on their backs to sleep. Blankets will not be used for any child under the age of 1. Parents may choose to bring in sleep sacks for their children in place of blankets.
Child and Adult Care Food Program:
CACCCP provides 1 type of infant formula
Rice cereal and baby food provided when developmentally ready